IDP Newsletter -- June, 2015
https://ssl.gstatic.com/mail/sprites/newattachmentcards-1203a0f412c82bdc...) -219px -129px no-repeat;">

To get ready for new audiences, first you gotta find your (s)park.
https://ssl.gstatic.com/mail/sprites/newattachmentcards-1203a0f412c82bdc...) -219px -129px no-repeat;">
The Interpretive Development Team joined partners from the International Coalition of Sites of Conscience to "Hack the Museum" of Natural History in New York City. This innovative tour company helps make old stuff exciting to new audiences.Special thanks to the NERO
Are you ready to have "Every Kid in a Park"?
What happens when new audiences "Find Your Park"?
Our Centennial year is right around the corner, and with it comes a bright spotlight. What will that light reveal to the public? What will it reveal to us about ourselves?
As we prepare for this huge public relations opportunity, reflection and introspection feel like luxuries. Perhaps they are, but if we don't answer a few key questions, our new audiences may not find the connections they seek. So I hope you can take some time to ponder:
Who do we want to be in our second century?
How can parks make our society better, wiser, healthier, happier?
And lastly, how can we be better agents to realize the vast potential of parks?
To answer those questions for ourselves, our IDP team has been on an odyssey this spring, exploring new ways to reach new audiences - to help you prepare for the change we want to be. Check out our training grants and upcoming opportunities and discover how you can find your (s)park.
Sincerely,
Katie Bliss
Training Manager for Interpretation and Education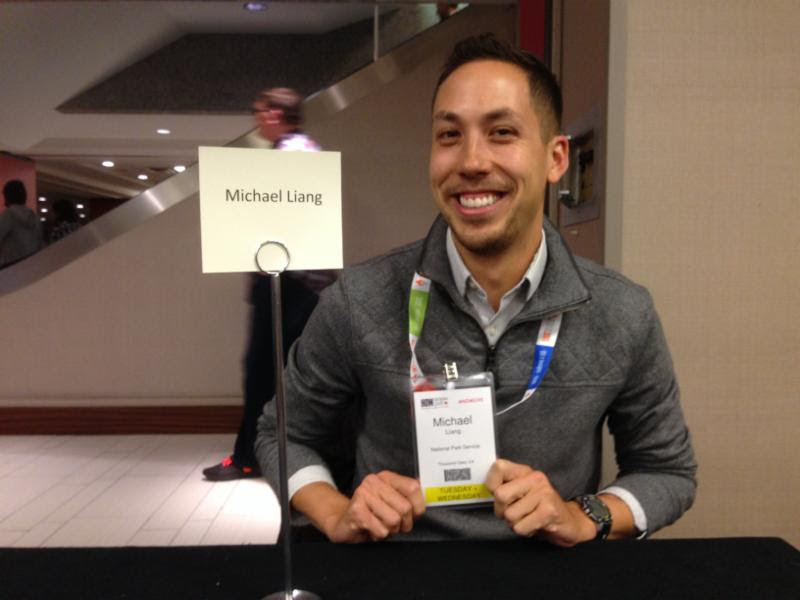 Michael Liang a Visual Information Specialist at Santa Monica Mountains NRA at
HOW Design
Liveconference
in May. Here Michael is participating in a speed-networking event between buyers and sellers.
We all know that summer begins the busy season for most interpreters; with on-site seasonal training and increased visitation it may be difficult to imagine taking time for your own
development
. An

IDP

Training Grant might be just right for you. Take part in professional development opportunities that are flexible and authentic.
Click
here
to see what others are doing to address

key areas defined by the results from last year's Interpretation and Education Training Needs Assessment. O

r find
your own training opportunity to develop skills outlined in your Individual Development Plan.Training grant recipients provide valuable reviews of their experiences, allowing our learning and development team to expand and leverage our resources.
Every Park Has a Climate Change Story
What's the story at your site?
https://ssl.gstatic.com/mail/sprites/newattachmentcards-1203a0f412c82bdc...) -219px -129px no-repeat;">
Climate change is related to every national park in some way -- either because it impacts or threatens park resources and the values that make them unique, or because park resources and their stories can help us understand the causes and implications of climate change for society... What are all the potential ways in which
cli­mate
change has broad societal significance related to your site? In addition to resource impacts, consider impacts to visitor experience, impacts to public perception, or in providing access to primary park themes or
manage­ment
goals.
What is lost - or gained - at your site because of climate change? What can be understood about climate change because of your site's resources and stories?
To learn more about identifying your site's climate change stories, and the most effective ways to communicate those stories, see the Interpreting Climate Change Self-study Modules.
Also, check out these upcoming training opportunities for interpreters and educators:
Coming soon - the Washington office for Interpretation, Education and Volunteers is sponsoring the development of an NPS National Climate Change Interpretation and Education Strategy and Toolkit. This will provide direction, encouragement, best practices and tools for all parks to find and communicate their climate change stories.

From the IDP -- Summer/Fall Training Opportunities
Face-to-Face Classroom Training:
Interpretive Leadership and Business Skills Training
Park Chiefs and Managers of Interpretive and Education face a host of challenges to meet the needs and expectations of 21st Century audiences, who are more diverse, urbanized, digitized and globalized than ever before. Additionally, as the National Park Service moves into its second century, the need to leverage and prioritize limited resources adds to the sense of urgency for park managers to become more business savvy.
Therefore, this fall the Regional and WASO Interpretation and Education staffs join the Interpretive Development Program to offer face-to-face training to every I&E Chief and Manager. During these three-day, regionally-based training events chiefs and managers will participate in site-based experiential learning, discuss how new practices can reach new audiences, gather data on their current program outputs, use planning and evaluation tools to examine their own programs and resource allocation, and begin re-prioritizing based on emerging needs and best practices.
Look for registration information in DOILearn by June 30.
NER/NCR -

Sept. 15-18

in Philadelphia, PA
PWR/AKR -

Oct. 20-22

in San Francisco, CA
IMR -

Oct. 27-29

n San Antonio, TX

MWR - Dec. 1-3 in Omaha, NE

SER - Spring 2016 in Atlanta, GA

Interpretive Peer Collaboration Workshop:
Supporting the Interpretive Community's Next Century
This winter, a new on-line system - the NPS Learning and Development Common Learning Portal - will provide a venue to bring all the voices of Interpretation across the Service into a broad and on-going conversation where we define, develop and evolve the best practices of heritage interpretation. Through this system, I&E practitioners will have the chance to discuss, develop and share examples and ideas with colleagues across the country, and earn credits in a new on-line badging system.
Participants in this workshop will help develop protocols and best practices for the new on-line system and will form the core of the new virtual community, serving as administrators and thought-leaders to encourage participation and be role models for effective peer conversations.They will serve as both the bridge to carry the current high quality standards of interpretation into the new system and the first set of voices to challenge and grow those standards.
Find all the details and apply now by downloading the PDF training announcement.
Virtual (Online) Classroom Courses:
Interpreting Climate Change -

July 21-24, 2015

. This course helps interpreters to develop effective, engaging climate change programming for both natural and cultural sites. Register in DOI Learn.

Webinars:
By Educators, For Educators webinar series

- This forum provides space for educators to share and learn about relevant topics that directly impact youth and teacher engagement in an effort to build a more collaborative community that inspires open exchange of ideas among park educators.

Explore the Standards: NGSS -

Tuesday, July 14, 2015, 2:00 - 4:00 PM ET

. Register Here
Create Teacher Workshops and Institutes - Wed., Aug. 19, 2015, 2:00 - 4:00 PM ET. Register Here
Explore the Standards: CCSS - TBD
Explore the Standards: C3 - TBD
Self-Study:
Interpreting Climate Change Self-Study Modules

-

These study materials are completely self-paced, self-directed. Take a look and share the link with others at your site:

http://idp.eppley.org/ICC


Interpretive Facilitator's Toolkit -
A "starter kit" of resources to help you develop and hone your skills as an interpretive facilitator, a 21st century skill set!

On-line Courses - Available at www.parktraining.org

Informal Visitor Contacts
Interpretive Talk
Foundations of Interpretation
Causes of the Civil War
Media Fundamentals for Interpreters
And many more!

WIN an Award for Contributing a new Training Example
https://ssl.gstatic.com/mail/sprites/newattachmentcards-1203a0f412c82bdc...) -219px -129px no-repeat;">
We need videos of YOUR fantastic interpretive programs, so get out there with those video cameras! If your program meets the criteria and is selected as an example for training other interpreters, YOU will receive a $250.00 training grant!
We are especially looking for products that illustrate the effective use of audience-centered techniques (such as dialog, resource immersion, directed experiences, or other types of facilitated engagement and audience co-creation strategies) and programs that focus on audience relevance. Contact Becky Lacome at becky_lacome@nps.gov.
We've searched high and low for upcoming training opportunities that you just might be interested in!
NPS Digital Brown Bag for LGBT Pride Month - June 23 2:00 - 3:00PM Eastern Time. Click here to register.

edWeb.net Unleash Student Creativity with Tech-Infused Lessons - June 23 4:00PM Eastern Time. Click here to register.

National Association for Interpretation - summer webinars
Click here to view the schedule.
I interpret with my AUDIENCE.
I believe in MEANINGS.
I foster DIVERSITY.
Sound like you? Join the IDP community for thought-provoking news, conversations, and training about relevancy and meaning making in parks.
https://ssl.gstatic.com/mail/sprites/newattachmentcards-1203a0f412c82bdc...) -219px -129px no-repeat;">